Sitework Services
We, at BDI Marine Contractors, are licensed and insured heavy construction and site work contractors in Martin County, FL. We provide our services for residential, commercial, and civic properties throughout the region. Whatever the scale or type of project you may have, we have the experience, skills, and resources to take care of it. Explore the different types of services that we provide in our portfolio.


Complete Civil Construction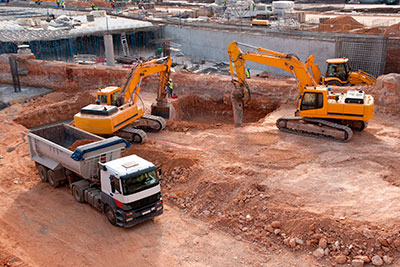 We provide complete civil construction services to all levels of government agencies. As a licensed general contractor, we handle all aspects of your project. This includes earthwork, foundation excavation, lift stations, force mains, riprap soil stabilization, underground utility construction, concrete construction, and much more. We adhere to the latest regulations, delivering your project on time and within budget. Our engineers, skilled tradespeople, and contractors are experienced and licensed and undergo continual training.

We have the heavy machinery and skills required to complete all types of civic projects. An innovative approach to planning and design and delivering quality results based on unmatched workmanship has allowed us to build long-term business relationships. We have in-house professionals, allowing us to develop effective design-build teams to take care of all aspects of your project. All our projects are focused on meeting design goals, saving cost and time, and deliver pleasant experiences. Read More About Complete Civil Construction »


Underground Utility Construction
Laying underground utilities is an important part of new construction projects. We provide underground utility construction services for both new projects and renovations. Our capabilities range from sophisticated urban reconstruction to open field pipe installations and everything in between. Over decades of experience, the use of the latest technology, and continual training allows us to deliver high-quality services. Precision is an essential part of the process for us. Our crew can ensure that all the paved surfaces, landscaping, wooded areas, and other features remain untouched. We use drilling techniques that keep costs low, save time, and avoid any disruption.

We specialize in installing different types of underground utilities including water main, fire main, storm drainage, electrical duct systems, inlets, piping, force main, sanitary sewer, and reclaim. Our crew employs directional drilling, cameras, and jet sewers for quality results. We provide comprehensive services, which translates into greater convenience for you. Read More About Underground Utility Construction »


Pump/Lift Stations
We provide pump/lift station installation services to lower the cost of wastewater or septic system construction. We have the experience and expertise required to handle the most complex process. They can be installed for different applications including water supply to canals, sewage removal, draining low-lying areas, and more. They are most needed for moving wastewater or sewage to treatment plants. We can integrate the latest technology to enhance the efficiency of these systems.

From a single-family home to a large development or a civic project, we can plan and install pump/lift stations in all scales and sizes. We work with private property owners, developers, consulting engineers, and city personnel. Every project is designed around client needs and the latest regulations. Safety and commitment to the environment are integral to the service. We know that every new project requires a customized solution, and we have the capabilities to deliver on any type of requirements. Read More About Pump/Lift Stations »


Helical & Foundation Pile
We have decades of experience in installing helical and foundation piles to hold buildings and structures securely in place. These components are embedded deep underground. They play an important role in dispersing the structure's weight. Our experienced and well-trained crew will determine the number and design of the piles required for your specific project. Whatever your project type – a new building, an addition, a swimming pool, or a civic project, we can design and install the perfect helical piling foundation system.

Our helical piles can add more life to your structures. The process involves the use of hydraulic power head equipment for rotating the piles into the ground. Our services offer many advantages. This includes cost-effectiveness, faster installation, and negligible disruption to the worksite due to noise and vibration. These systems enable direct and instant load capability and can bear all kinds of load. Read More About Helical & Foundation Pile »


Sheet Piling and Dewatering
Sheet piling and dewatering are proven methods for different types of projects. They are used in construction, specialist foundation, and hydraulic engineering projects. The technologies involved are always evolving and we ensure to embrace the latest techniques and systems. This helps us deliver a greater level of cost-effectiveness to our clients. When it comes to sheet piling, we specialize in both steel and concrete material options. The interlocking ends allow the creation of a continuous wall.

Sheet piling also provides temporary dewatering solutions. They can be used to protect embankments from potential erosion in the future. Besides using them as shoring in excavation projects, they can also be used as weirs, retaining walls, seawalls, and cofferdams. If there are water issues in your construction site, our dewatering services can help take care of them. Water problems are common in trenches, excavations, and at sites where there is an inadequate slope or high-water table. Read More About Sheet Piling and Dewatering »


Concrete Construction
There is no type or size of concrete construction project that we cannot handle. Whether you need our services for your residential, commercial, or civic project, we have the experience and skills required to complete it with dexterity. Concrete foundations, retaining walls, pavements, and cast-in-place concrete are just a few of the project types we can handle. From experience, we know everything there is to know about mass pour issues. Using the latest in techniques and resources, we can take prevent any costly issues.

Some of the common issues arising in concrete projects include cracks, thermal stress, chemical reactions, reduced strength, and instability caused by changing temperatures. We also specialize in laying concrete pavements for different types of projects. The use of the right techniques, top-grade materials, and our expertise means that your pavement will last much longer than normal. We also specialize in installing vertical and shear walls, elevated slabs, and other concrete structures. Read More About Concrete Construction »


Demolition
We provide demolition services for all types of structures. Whether it is a new construction project, an addition, or renovation, we have the skills, experience, and tools required to take care of it. You can remain assured that your project will be completed on time, on budget, and following the most stringent safety standards. Our demolition services are provided for all types of properties, including commercial, residential, and civic. Whatever the type or scale of your demolition requirements, we have the equipment to take care of it.

Every demolition project begins with a meeting and careful planning. Whether you need to remove a section of a building, the entire building, or other structures, we can take care of it. You can remain assured of fast and precise demolition. Once the project is complete, our crew will leave the site clean. Whatever your demolition needs, we have the experience to handle it. Read More About Demolition »


Land Clearing
Whether you want to clear a newly acquired piece of land or a property that you already own, we can take care of all your land clearing requirements. Most projects will typically begin with the process of land clearing. This can involve the removal of vegetation or structures or both. Our team will arrive fully equipped. We use the latest equipment including excavators, bulldozers, loaders, bobcats, graders, skid steers, dump trucks, track hoes, and more.

Whether you need selective or complete land clearing services, we can provide flexible services. Besides, we can also remove the debris from your property depending on your unique needs. We are a full-service site work contractor. This means we can also provide additional services including demolition. Thus, you will not have to look for another contractor, no matter what type of site work you may require. We will assign a dedicated manager to each client for efficient operations. Read More About Land Clearing »

With BDI Marine Contractors, you can meet all your site work and heavy construction requirements under the same roof. If you want to learn more about our services or want to discuss your specific project needs, call us today at 561-909-9898. You may also send us your queries using this Online Form.