Marine Construction Services
BDI Marine Contractors is a licensed marine construction contractor in Martin County, FL. From fighting waterfront erosion to dredging to marine recovery, we handle all types of marine environment projects. We service residential and commercial clients, and government agencies for all types of projects. Explore the different types of services that we offer to our clients in the region.


Seawalls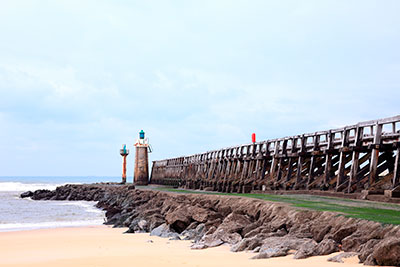 If you have a waterfront property, it is most likely you will have to take steps to control erosion. A seawall that is durable and long-lasting is the ideal solution. We have over four decades of industry experience in installing seawalls that address the specific challenges and issues faced by our clients. Each project has our designers, architects, and craftsmen involved to create customized solutions. These structures can serve more benefits than preventing and controlling soil erosion and flooding.

We design and install seawalls that provide long-term protection, increased security, and create a more elegant shoreline. By preventing damages, they also help save costs. We will install durable structures that require low maintenance, thus reducing your cost of ownership. Our professionals will work with you to determine the best type of seawall for your needs. This can include vertical, curved, stepped, mound, and other types of seawalls. Besides, we can also assist you in choosing the right material. Read More About Seawalls »


Truline Seawalls
Truline seawalls, when professionally installed, can protect your property, and add to its aesthetic appeal. These seawalls offer the best of different materials – steel-reinforced concrete and vinyl sheet piling. These installations can offer both functional and aesthetic benefits. They are also available in a wide range of colors and textures to choose from. We have decades of experience installing seawalls on all types of waterfront properties. No project is too big or too complex for us.

Our crew is highly knowledgeable of the process involved in the installation of Truline seawalls. Continual training ensures that we stay up to date with the latest developments in technology. This further allows us to help you make the most of the unmatched service life of this type of seawall. Beige, light gray, and sand are the most popular color options, but you can also choose custom colors. As specialized marine contractors, we bring in-depth expertise to your project. Read More About Truline Seawalls »


Rip Rap
Rip raps provide a cost-effective solution to soil erosion, and we have the expertise to help you make the most of them. When installed properly, these features can keep your waterfront property protected for a long time. We handle every new rip rap installation project while keeping the client's needs in mind. Our experience and our advanced knowledge go a long way in providing you with long-lasting rip raps. At the same time, you will benefit from effective erosion control. We can install rip raps on all kinds of waterfront properties along the sea, lake, river, and waterways. Besides residential and commercial property owners, we also provide our services to civic bodies. Our experience plays a big role in determining the right amount and size of rock for each project. This allows us to provide cost-effective solutions to our clients. There is no type of rip rap that we have not installed in Martin County and the surrounding regions. Read More About Rip Rap »


Dock and Pier Construction
When it comes to dock and pier construction, we take care of everything. This includes the design layout, selection of rails, piers, posts, materials, and installation. We can also assist you in the compilation of the paperwork needed for permit application and meeting compliance requirements. Our experienced crew works with all types of materials used in the industry including, wood, concrete, composite, and a combination of materials.

From fixed docks to floating ones, we can install all types of docks and piers. We will assess all the key factors including water depth, condition of waterway bottom, and potential piling penetration to ensure proper piling installation. The combination of the right techniques, equipment, and our experience ensures optimal dock stability. We also install combination docks that provide you the best stationary and floating docks. The environmental conditions will be considered when choosing the right materials for your project. Read More About Dock and Pier Construction »


Dredging
We can provide customized dredging services based on the type of waterway you have and what it is used for. Dredging is commonly required to maintain the depth of a channel, anchorage, or berthing area. Our experienced crew will use mechanical or hydraulic dredging services depending on the site and its requirements. Safety is an integral part of all projects and the greatest priority. All projects are properly planned before execution and delivery of the desired results. We have the equipment and expertise to access all types of locations.

We have waterborne barge-mounted and long-arm excavators to handle mechanical dredging. Our team is also equipped with the latest hydraulic dredging equipment to remove sediment from the waterway front. We also provide maintenance dredging services that help you maintain drainage canals or stabilize banks. Over the decades, we have provided our service for marinas, slips for marinas, ponds, lakes, retention ponds, private lakes, and all types of other water features. Read More About Dredging »


Mooring Pile Systems
We design and install mooring pile systems that give you the confidence to leave your boat or boats in the water in all types of conditions. With decades of industry experience, we know what it takes to create pile systems that keep different types and sizes of watercraft safe. From handling tide changes to surges during storms, these systems can keep your vessel safe in most conditions. Our services are offered to all types of clients including boat owners, harbormasters, marina managers, and anyone managing watercraft.

You will no longer have to haul your boat away whenever there is a weather alert. We use pile systems that provide greater strength than traditional alternatives. Our experienced and certified crew will set the perfect bottom depth and assess all the key factors to achieve the required holding power. Only top-grade materials and systems are used in all our projects. Read More About Mooring Pile Systems »


Boat Lifts
Whatever type of boat lifts you may need, we have the expertise and experience required to design and install them. Every project we handle is designed to last. Not all types of watercraft can be left in the water. This can increase the risk of corrosion and damage to the vessel's body. We can design a boat lift for your vessel that keeps it safe and prevents it from meeting water if you are not using it. Every project is designed around your need for functionality and convenience.

We install all types of boat lifts, including elevator, cradle, and personal watercraft lifts. Every project begins with a careful assessment of the vessels you have and your harbor or berthing area. We have decades of industry experience. We will make it easy for you to determine which lift is suited for your boat, kayak, Jet Ski, or other watercraft. Read More About Boat Lifts »


Marine Recovery
We provide a wide range of marine recovery services in Martin County and the surrounding areas. It commonly occurs that people run out of fuel or face engine problems when fishing or enjoying the waters. Many times, boats can get stuck on shallows. Whatever kind of issues you may face on the water, we have the resources and expertise required to assist you. Besides emergency assistance on the waters, we also provide marine salvage and lost equipment recovery services.

We can recover vessels safely from the dockside or sea. Our experienced crew will take all the precautions to minimize damage. We provide emergency assistance for battery jump-start requirements as well. All types of marine recovery projects are time-sensitive. We provide quick-response services to provide peace of mind, convenience, and to minimize the risk of loss or damage. Our crew will arrive equipped with the right tools to help you with your unique situation. Read More About Marine Recovery »

If you want to learn more about our services, feel free to contact BDI Marine Contractors today. You may call us right away at 561-909-9898 or send us your queries using this Online Form.